Windows 7: Create System Restore Point
System Restore is a very good feature in Windows 7. Previously it was available in Vista and XP, but it has improved in Windows 7.
Why Use System Restore?
After you install software it makes changes to the registry or delete files, and sometimes you may even modify some settings knowingly or unknowingly. It is possible that the system may start crashing or become unstable. If that happens you can undo all this changes and restore the system to earlier time by using System Restore Utility.
What does System restore do?
It is like undo.It puts your computer back to a previous state of use that was available before you had problems. It does this by periodically taking a snapshot of your system. These snapshots are called restore points.
Restores points are created when you make any significant changes, like adding new applications or installing a driver. But you can also manually create restore points. The upshot is that these Restore points can help you restore the whole system back to a previous post.
So before you do a System Restore, you need to create a System Restore point. Though sometimes it is automatically done, you also have to know manually creating a System Restore point.
Step 1: Open the Start Menu.
Right click on the Computer button and click on Properties.
Click on the System Protection link.
 Step 2:   Check to make sure that you have System Protection turned on for the listed available disk, that you want to create a restore point for, to include it in the restore point. By default, System Protection is turned on for the hard disk or partition that Windows 7 is installed on.
If not , follow these steps.
 Step 3:   Click on the available hard disk drive or partition, that you want to turn System Protection on or off for, to select it. NOTE: Windows 7 should be the C: drive with (System). Under the Protection column, you will see if System Protection is turned On or Off for the available disk.
Click on the Configure button.
Select the option, Restore system settings and previous versions of files and click on OK. Repeat "Step 3" for configuring any other disk drive (like D:,  E:, F: etc).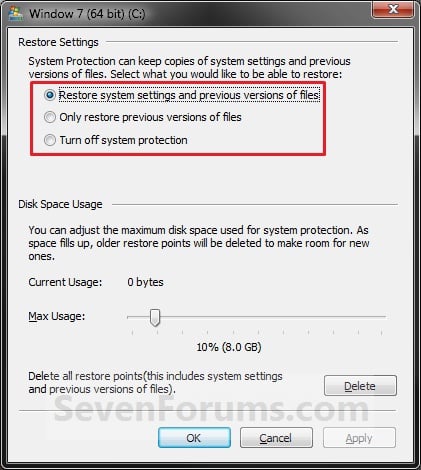 Step 4:  Click on the Create button.
Type in a description for the restore point to help recognize it when doing a System Restore, and click on the Create button.
You will now see this while the restore point is being created. (See screenshot below)

When the restore point has finished being created, click on the Close button. (See screenshot below)


Click on OK.
Well, now you've created a restore point. We'll see how to restore these system restore points in case of failure etc in the next post.
Technorati Tags: Windows 7,System Restore Point,Vista,computer,problems,snapshot,upshot,Click,Protection,disk,steps,column,Configure,Select,Repeat,description,failure,versions,screenshot
Related posts: